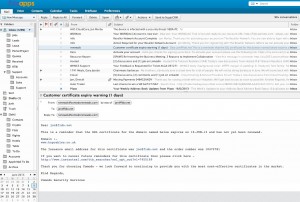 Fido Apps service based on the successful Zimbra® platform brings you the benefits of Microsoft Exchange®, Blackberry, Android, Push e-mail, real time updates and more all in a neat Open Source driven solution!
Read your email on your phone or PDA, laptop, desktop in Outlook or in web browser. Be in touch when it counts, and be ahead of the competition – no more waiting 15 minutes or more for that email to arrive!
Based around a collection of Open Source solutions ensuring fully open standards and reliable technology FidoNet have added our own personal touch, providing a truly Carrier Class solution at a fraction of the cost of operating your own dedicated email solution.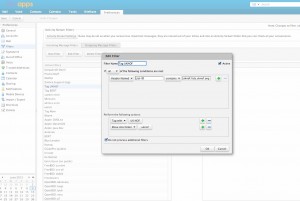 From just £ 3.90 per month, you get 10GB of storage, email, calendaring spam filtering and contacts sync directly to your PDA/Phone. No longer have a contact in Outlook that didn't get copied to your phone – now you benefit from real-time "over the wire" syncing (and backup!) of contacts and calendars!
Fed up of the "minimum user" limits with other providers? At Fido, we will host a single mailbox on your own domain we don't discriminate. You get the same professional and fast service with 1 or 1,000!
Email and telephone support, based in the UK from really knowledgeable techies. And be safe in the knowledge we use exactly the same system for our email, it's that good!
Mailboxes are stored using strong encryption and we support SSL/TLS for all access (web, SMTP, IMAP, etc) so you can be sure your private data remains private!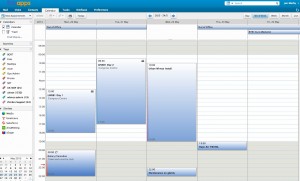 Contact sales for more information and gain the advantage over your competitors today!
Why choose Fido Apps?
35-60% cheaper than MS Exchange

Fantastic Web Interface

Cross platform support for Windows, Mac, Linux and all major browsers

Flexible and easy to scale with your needs

Supports CalDAV, CardDav, iCal and WebDav


Easy to use Web Interface

Enterprise grade group and shared calendaring features

Over the Air "ActiveSync" to smart devices such as iPhone, iPad, Android, Windows Mobile, Blackberry and more.

All major systems and standards supported including Outlook (MAPI), IMAP/POP, iSync, iCal, RSS, CalDAV, CardDAV and WebDAV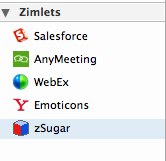 Integration with 3rd party systems including Salesforce, Cisco WebEx, AnyMeeting, SugarCRM and more
With Fido Glide, can you join AnyMeeting and Cisco WebEx meetings from within our feature-rich Desktop web application, you can also integrate with CRM solutions such as SugarCRM and SalesForce for end to end productivity.